Creating health innovations is your job. Helping you get them to market is ours. If you are like many health technology innovators, you may be wondering: How do I get my innovation to market? What are the basic requirements? Where do I begin? What resources are available? How much will it cost? How long will it take?
In this webinar, we explore the path to market approval for health technologies, focusing on clinical evidence collection and regulatory compliance.
Viewers will leave with a general understanding of the:
Regulatory compliance for health technologies,
Clinical evidence required for product approval and adoption,
Local resources available to facilitate market approval of your technology.
This webinar was part of Startup Calgary's Innovation Week. It was presented by Dr. Derek Exner, Executive Director, and Kevin James, Senior Quality Management Specialist, at Innovate Calgary's IMPACT clinical trial accelerator.
About Derek Exner (seen below on the left)
Derek created IMPACT to assist health technology ventures to obtain market approval of their technologies faster and with less capital. He has over 25 years of experience designing and conducting clinical trials, is a practicing cardiologist, a mentor and advisor to multiple health technology companies, and founder of two medical start-ups. He uses his insights and practical knowledge to optimize the design and execution of clinical trials.
About Kevin James (seen below on the right)
Kevin brings a wealth of experience in quality management and business development to IMPACT. A dual MSc. and MBA graduate, he draws upon insights from roles at a multinational pharmaceutical company, smaller biotech ventures, and as an academic researcher, including involvement in various pilot studies and early-stage clinical trials. He advises IMPACT ventures on matters of quality compliance and drives projects forward.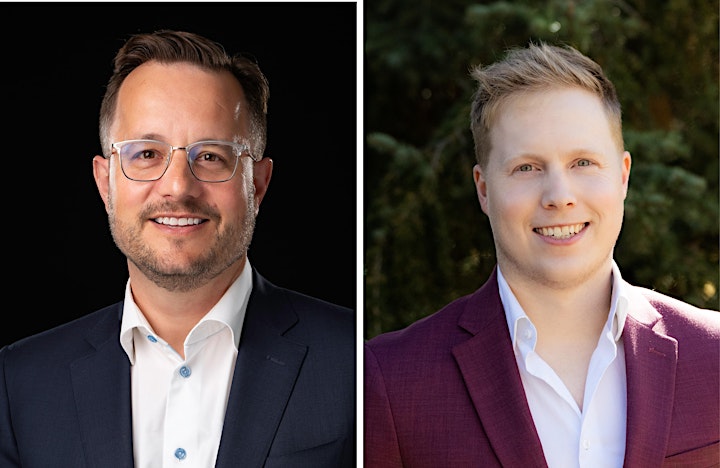 *This webinar is a part of the Innovate Calgary and Life Sciences Innovation Hub Webinar Series